So much management time is wasted in the day to day communication and retrieval of sales information that sales personnel become more administration than customer focused! This means less time to sell.
The Sales Process is the lifeblood of all commercial enterprises….
However many businesses today still manage their sales process through a paper based sales system which is labour intensive , cumbersome, time- consuming and vulnerable to:
Delays in critical data reporting
Loss of data
leading to lost sales and revenue through poor management or human error.
Management's dilemma is : how do I optimize my sales process so that I fully support my sales representatives and capture every dollar of sales revenue?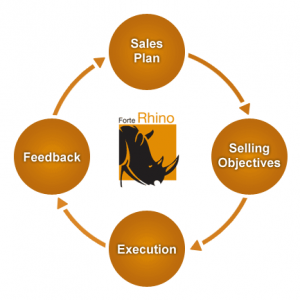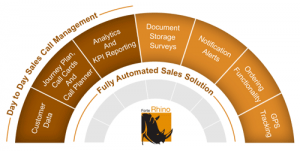 Developed here in Australia, 'Rhino' is Forte's flagship sales CRM automation product.
Originally developed specifically to address the unique needs of the liquor industry, Rhino is now also utilised within the food, hardware, rural and industrial channels due to its' flexible and customisable nature.
Rhino is built to simplify your sales process and is modular in its functionality for complete customisation to your business needs.
Rhino allows you to:
Direct your sales team focus more effectively to making every sales call a productive one.
Connect your sales team with management faster, eliminating the need for manual, time consuming administrative processes.
Protect your data in a secure hosting environment.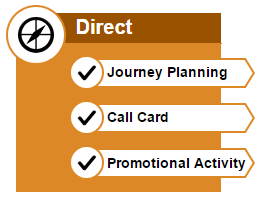 Journey Planning is the central area of the tablet. Calls are created here, updated and completed.
Call Card displays everything the sales representative needs to know to complete the call including company contacts, call history, pricing, agreements and allows the completion of pricing surveys.
Promotional Activity provides promotional tracking and compliance.
Reporting: Rhino seamlessly connects management to the frontline via a report building tool that includes KPI, compliance, and pricing options which are all designed to measure performance and allow quick decision making.
Tracking: GPS tracking functionality allows the location of the tablet to be recorded every 15 minutes and record the location and time when a call is completed.
Keeping In Touch: Send alerts or notifications to the team or individuals. Rhino chat allows your sales team to stay connected with each other and communicate on the go.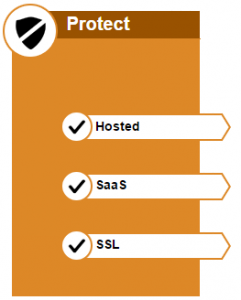 Deployment Options: Hosted and SaaS
Rhino offers flexibility to fit your business. Forte offers SaaS and hosted solutions to help you scale and optimize your system to meet your specific business needs.
Hosted: Forte partners with data centers that facilitate seamless hosted operations. Our certified staff, state-of-the-art equipment and facilities ensure security and performance. This ensures you get higher service levels, fewer service issues and quicker issue resolution.
SaaS: Forte delivers fast, reliable SaaS-based deployment options. Get the security, storage and functionality you need in a SaaS system from a single vendor Forte Rhino provides an exceptional user experience, both online and offline. Unlike clunky browser applications, Rhino works, looks and feels like a desktop application.
SSL: Forte uses SSL to encrypt information so that it can only be read and understood by the intended parties.
Rhino performs on smart phones, tablets and desktops, maximizing the productivity of your workforce.
Utilising the Android platform, users in the field and in the home office gain quick access to customer information and can be confident that their transactions are secure.
Forte partners with leading technology suppliers to keep current with latest technology, keep your costs down and ensures Rhino provides an optimal experience for users.